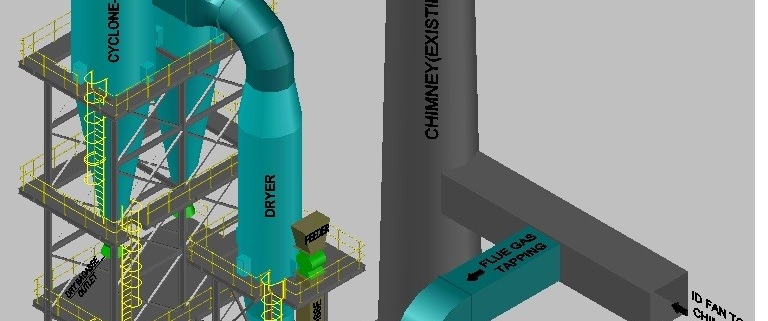 Bagasse dryers are inhouse developed Innovative product through R&D efforts to dry wet bagasse by utilizing the waste flue gas energy dumped through chimney.
Flue gases from the boiler are made to pass through dryer under forced draft and with wet mill bagasse being fed at the bottom of the dryer through a rotary air lock feeder. Due to co- current flow wet bagasse gets carried upward along with hot flue gas at a calculated velocity based on Average Particle Retention Time (APRT). During this process, bagasse moisture evaporates and dried bagasse is subsequently separated through high efficiency cyclone separators.
This dried bagasse is continuously evacuated from the bottom of the cyclone(s) through air-lock valves for onward feeding to the boiler. Adequate automation including differential pressure monitoring are provided.
---
Unique Features:
Increase in Boiler efficiency up to 77% or more.
Bagasse moisture reduction up to 37% or low.
Online monitoring system to avoid bagasse chock up.
Stainless steel constructed parts at critical location for longer durability
VFD controlled booster fan to ensure smoother operation against temperature and moisture fluctuations.